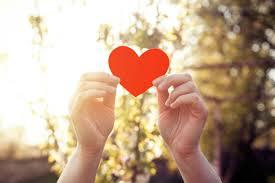 For a long time we barely talked about what happened, but this month marks the ten-year anniversary. We tragically lost my mother-in-law to a heart attack in February 2009. I remember getting the startling call around 10pm and then rushing to the hospital, but it was already too late. This week, I learned of two dear souls we love also experiencing intense heart attacks. But blessedly, they recognized the signs and sought help in the hospital. My uncle and my friend, Mindy, had blockages of the "widow-maker" artery - 100% and 95%, respectively. Thank God, both of them are now recovering. Hearing their stories and remembering the horrific loss of Samir's mom, I'm writing this blog post dedicated to heart health and hoping it helps someone take the warning signs more seriously.
February is a tough month for most of us. Although it is a short month, it is long in the number of guaranteed cold days. While January actually has the highest number of cardiac deaths each year, it's February that is Heart Health month (with Valentine's Day smashed into the middle of it, just for good measure). Below are a few surprising statistics.
1) 50% of women who survive a heart attack said they had no chest pain. 
For my mother-in-law, it was jaw pain and tight muscles by her neck. She thought she had pulled something during her Tai Chi class. Sometimes the sensation is more like a tight rope around your throat or chest rather than the classic "elephant stomping on your chest."
2) Know the precursor symptoms: Fatigue, Shortness of Breath, Nausea
Researchers reported that female heart attack survivors often reported these warning symptoms before the attack: 

70% reported severe, unexplained fatigue.
48% had sleep disturbances.
Almost half had shortness of breath, indigestion and anxiety.
Almost half had no chest symptoms.
https://myheartsisters.org/about-women-and-heart-disease/heart-attack-sign/

3) Don't wait until it's so bad that you can't handle the pain. 
Pain is your body talking to you and ignoring it can be lethal. This is especially true for those who endure pain and suffering quietly. I've seen this play out too many times in traumatic situations. My friend who delivered her baby in the lobby without anesthesia because she waited for the pain to get "really bad" before going to the hospital. My sister feeling the incision during her c-section and not speaking up until she passed out from the pain. My mother-in-law waiting to go to the hospital until the pain was so severe she passed out at home. She stopped breathing at home before the paramedics arrived because she pushed through the discomfort for too long. She was used to being strong and tough and resilient. She kept thinking the discomfort was no big deal. When she passed out, my father-in-law called the ambulance and did CPR but the damage was done.
Mindy, my friend and Arkadiance client, survived her first heart attack last week.  I'm glad to say she was on the minimum dose of 1,000mg of Arkadiance Omega-3 Capsules (2 capsules). After realizing she is high risk for cardiac issues, her doctor and nutritionist recommended she double the dose to 4 capsules or 2,000mg of Omega-3 (includes 1000mg of EPA which is the most potent part).  In fact, the American Heart Association, recommends up to 3,000mg of Omega-3 (or 2,000mg of EPA) for maximum cardiac benefits for high-risk patients. Find the AHA's recommendation of Omega-3 based on your level of triglycerides here. The fatty acid chains from Omega-3 helps keep arteries clear. For more information on Omega-3s and fatty acid chains, look out for our next blog post.
Talk to your doctor to find the right dosage for you. My husband takes four of Arkadiance Omega-3 capsules daily. I take three and my girls (ages 11 and 13) each take two capsules - all part of our proactive healthy bedtime routine. I'd like to think Arkadiance helped protect Mindy a little. I regret I couldn't do anything to protect Samir's mom, but I'm sure she's proud knowing I'm doing something to protect her son and granddaughters. She would love that Arkadiance makes it easier for people to proactively manage their cardiac health through the natural concentrated Omega-3s. Natural healing was her passion, too.